Don't Wait to File: Two Changes to the FAFSA Process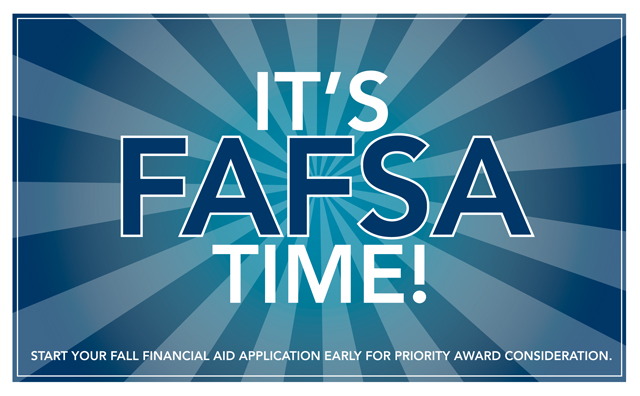 Good news!  There are two major changes to FAFSA to allow students to submit it earlier and faster!  (For more information on what FAFSA is, please see "Act Fast for FAFSA: Free Money for College" article.)
Students are now able to submit a 2017–2018 FAFSA as early as October 1, 2016, rather than waiting for January 1, 2017. This is a permanent change, allowing students to complete and submit their FAFSAs as early as October 1 every year. Having the FAFSA available three months earlier can help high school seniors make better decisions on where they'd like to attend college based on the financial aid offers they receive from schools.
Another change to the new FAFSA submissions is using completed, rather than estimated, tax information. For example, for the 2017–2018 FAFSA, students (and parents, where appropriate) will report their 2015 income and tax information, rather than their 2016 income and tax information.  Because 2015 taxes have been completed by the time to fill out the 2017–18 FAFSA, the IRS Data Retrieval Tool (IRS DRT) should allow one to automatically import their tax information into your FAFSA.
Refer to the below graphic for quick tips and more information regarding deadlines.  Note that the submission deadlines listed below are for federal.  State deadlines vary.  Check your state FAFSA deadline.  The California FAFSA deadline, for example, is March 2, 2017.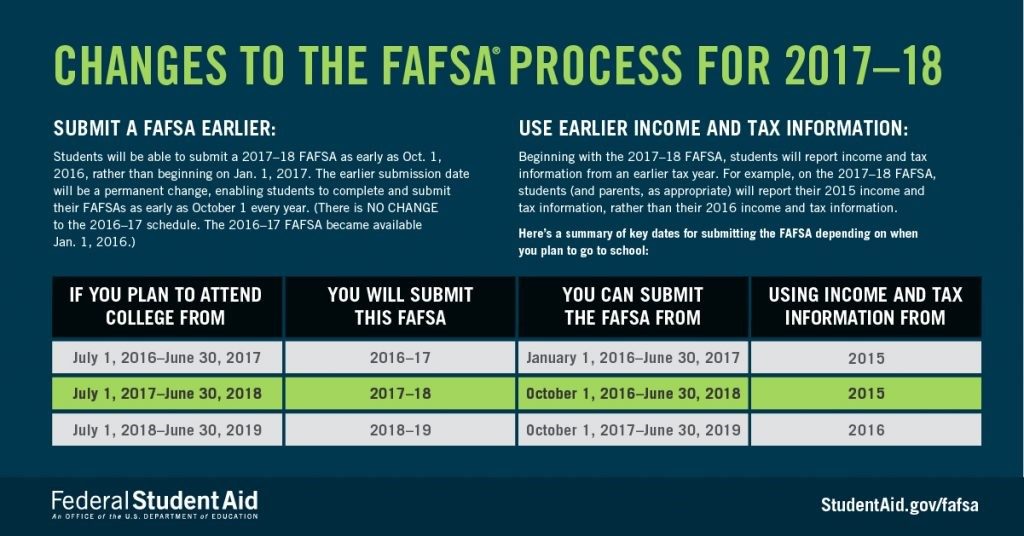 Don't delay!  If you overlook the new October opening date and procrastinate too long, you risk losing out.  Some financial aid is offered on a first-come, first-serve basis.  Don't miss out on your FREE money for college!
Planning for college can be daunting if you don't have the right support to get you there.  Save time, stress, and the headache with a life coach to help you through the process.  If I can't help you, I have access to resources that can.
If you're ready to fill out the FAFSA now, go for it!
Related Articles:
Academics / College – Education is a rich source of opportunity for us to learn more about ourselves and the world, and be prepared to make a difference.  This page provides additional resources for academic improvement and college preparations.